To keep pipelines, cables and hoses afloat, it is easy to use a floater. Especially when it is about temporary projects where cables and pipelines needs to keep afloat. Our buoyancy bags are inflatable and have a large buoyancy.
Buoyancy bags for extra buoyancy
The floats are made of strong PVC material. Therefore our products are resistant to high temperatures and thus high pressures. At normal use the pressure of the floats is nearly negligible. Sailmaker de Wit has years of experience in producing strong buoyancy bags. The bags we produce are also called the Flootzer.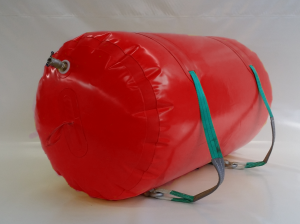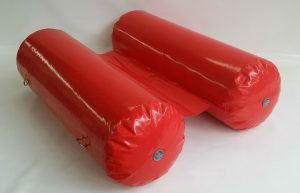 Buoyancy bags are normally used in shallow waters. Think about transporting cables, hoses or pipelines from land to a ship or platform. Also at lakes the floaters are used. It is no longer necessarily to drag cables and pipes across the botom. By using the Flootzer bags damage can be avoid.
Buoyancy bags easy to use
Avoid direct contact of the pipelines, cables and hoses with the soil. Buoyancy bags are easy to use and you have to inflate them at the workspace. After use the bags can easily be stored. Because they are inflatable the bags do not use a lot of space.
Because we want to deliver a strong and high quality product, all our floats are tested. The quality can be ensured and strong bags are offered. Our Flootzer buoyancy bags are available for pipelines, hoses and cables.